Earliest I have found so far is Roger Wilson, (my 4X great-grandfather) born in Barton, North Yorkshire, in 1734 and died Jan 18 1814. All I know about him is that he married a lady called Mary, and they had at least four children -

Roger, (my 3X great-grandfather) born 07 Feb 1773 for more click here.

Agnes, 28 Oct 1774 - died at age of one, 5 Feb 1776

Robert, 02 Feb 1777 - nothing more known

Sarah, 19 Mar 1779 all born in Barton. Nothing more known.

I don't believe Roger was the first-born. His father would have been 39 at Roger's birth and his mother 35 and it is unlikely that no other children were born before Roger. I was contacted some time ago by a lady who has an ancestor named Roger Wilson born 1734 in Middleton Tyas (very close to Barton) and who died in 1814 same years as "my" Roger. She said he was married to a Mary Bell, (again same name for wife as my Roger) born in Middleton Tyas but she had a year of birth for Mary as 1755 which would have made her 21 years younger than her husband and is different by 17 years to the d.o.b I have for Mary. The lady told me that she was descended from Roger's daughter Jane Wilson, born 1764. If she is correct and Mary was born in 1755, then she could not possibly have been Jane's mother, so perhaps Roger was the father and his first wife had died? Or if the lady who gave me this information had Mary's date of birth wrong then Jane could easily have been Roger and Mary's child. Jane went on to marry a Thomas Malthouse in Barton, and they named their first born Roger and their second Mary. So circumstantial evidence but strong possibility of a connection.

I have just found a record of the marriage between Thomas Malthouse and Jane Wilson that I had been sent by the same lady some time ago and had forgotten I had. Thomas is described as a blacksmith, Jane Wilson, spinster, both of Barton, and the marriage took place at Barton St. Cuthberts on June 11th 1788.

(Note - in the 1861 census Thomas Wilson has a Paul Malthouse as apprentice blacksmith in Eppleby)

Roger and Ann Wilsons eldest son, also called

Roger was born on February 7th 1773 and is described on his widow's death certificate as a blacksmith, just like several of his sons and grandsons. I wonder how many generations back that trade went? He married Ann Taylor in Gainford in 1804 and Ann went on to live to the age of 89, and was a school-mistress for most of her life, even still described as such in the 1871 census. Roger and Ann's children were

Mary, 27 Feb 1804, Piercebridge, Co. Durham - nothing more known.

William, (my great-great grandfather) 17 Mar 1806, Piercebridge, Co. Durham

Anne, 20 Dec 1806 who died aged 3, on April 2nd 1811

Jane, 15 Apr 1811 Piercebridge, Co. Durham - married William Sigsworth - more to follow.

Anne, 5 Feb 1815 nothing more known.

Sarah, 27 Feb 1816 married Thomas Grainger - more to follow.

Elizabeth, 10 Mar 1819 married Richard Bellwood - more to follow.

This is a map of the areas where the earliest ancestors I have found lived.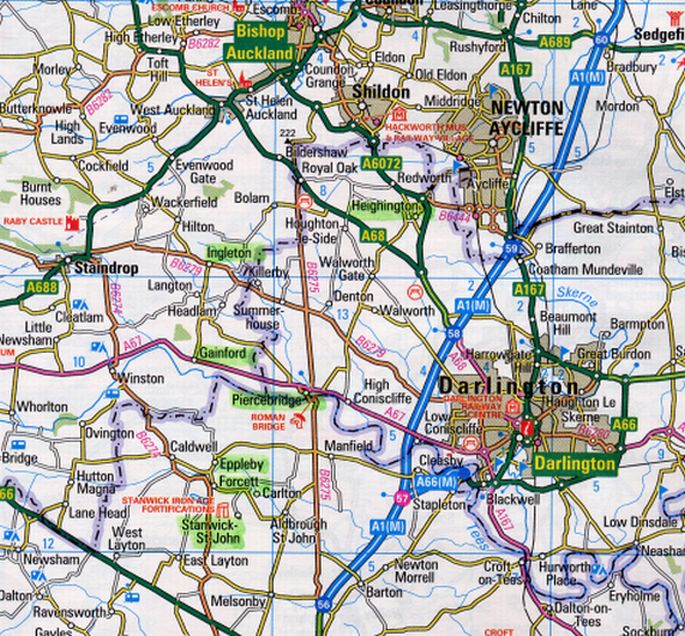 Roger and Ann's only son, William Wilson was born March 17th 1806 in Piercebridge, right on the southern border of County Durham, England. For at least the period 1828 to 1834 and probably much longer he was a blacksmith in the nearby village of Eppleby, Yorkshire, and is listed in the 1834 trader's directory as such. He married Mary Marriner on May 1st 1828 at Stanwick St. John, a nearby village, and they went on to have five children, Thomas, born late 1828, Matthew, 1830, George, 1831, William, 1833, and Roger, my great-grandfather,1839. William attended the wedding of his youngest son Roger to Mary Ann Maddison on September 29th 1861 at the Parish church, Leeds, Yorkshire. At that time, William was a 'workhouse master' at Darlington, St. Cuthberts, where Mary worked as the matron.

Mary Marriner was born on December 11th 1806 at Stanwick St. John, Yorkshire and was the daughter of Matthew Marriner and Ann (surname unknown), Her father, born 1776, was the son of another Matthew, all born in Stanwick St John. Mary came from a large family of Marriners and we think, but are so far unable to prove, that Mary was the daughter of an earlier Mary Marriner, brother to Matthew, and we know that the earlier Mary was married to another William Wilson who may or may not have been connected to our William.

Roger's home address at the time of his wedding in 1861 was Wharf Street, Durham, and his occupation 'Millwright' and Mary was from Durham as well, so why they were married in Leeds is a mystery but it seems they stayed in Leeds for a while, for their first child, Mary Ann, was born in Leeds in 1861 or 1862 and was a dressmaker in Durham in the 1881 census, aged 19.

Roger and Mary had 6 other children, William, born 1866 or 67 in Durham, Edward Maddison (my grandfather), born March 25th 1869 at North Street, Durham, Margaret Elizabeth, born 1871 or 72 at Durham, Emily, born September 21st 1873 at Sunderland, Roger George, born November 15th 1875 at Sunderland, and Thomas Henry, born July 10th 1878 at Sunderland.

Mary Ann Maddison, Roger's wife, was born in Durham in 1838 or 39. Her father, Edward Maddison was a witness at the wedding of his daughter to Roger Wilson in 1869 and was described as a 'basket-maker'. Edward was born on September 30th 1810 and was living at the time of the 1881 census at 9, Framwellgate, Durham, aged 71 and by now a 'retired' basket-maker. He was a widower at that time and we have yet to find the name of his wife. His other daughter, Elizabeth Maddison, single, and aged 38, was living with him at that time at Framwellgate, she having been born in 1843.

Edward Maddison's father was William Maddison, and his mother Ann Stones. They were married on July 9th 1808 at St. Margaret's Church, Durham. This is the same church that Marissa and I visited in 2001 while we were researching old records and is in North Street where Roger and Mary-Ann lived for a while.

Returning to Roger and Mary Ann Wilson, in the 1901 census they are living at 5 Green Terrace West, Sunderland, where Roger, now 61, is described as a 'Foreman Millwright', Mary, 62 with no occupation given, and of their children only Mary Ann and Emily are now living with them. Emily is single, aged 37 and a school-teacher, while Mary Ann had married George Alexander Forbes in 1894 but in the 1901 census she is living with, and acting as housekeeper to, her mother and father. She is still shown as married, and as George was a master mariner, we guess he spent a lot of time away from home on his ship. She has two children living with her, Alexandra Ivomy M Forbes, born late 1895 and Frederick Roland W Forbes, born September 1900. There is one other child living there described as Roger and Mary Ann's grandson, Harold Middleton Wilson born 1884. Harold was the illegitimate child of Emily and his birth certificate does not name the father. All children were born in Sunderland.

I have so far been unable to trace Roger and Mary Ann's other children, William, Roger and Thomas, but on Mary Ann and George Forbes wedding certificate the witnesses are Margaret E Wilson, Mary's sister, and Francis M Henderson, We now know THEY got married, in 1895 and we have the certificate. Margaret Elizabeth Wilson and Francis Matthew Henderson, of Clarence Street, South Hetton, Francis's occupation is given as 'craftsman' and his father is also Francis Henderson, Witnesses are Emily Wilson and R. Henderson.

Roger and Mary-Ann's OTHER child, Edward Maddison Wilson made the move down south and started the Kent branch of the Wilson family. Edward was born March 25th 1869 at North Road, Crossgate, Durham. We don't know why he moved south, nor how he ended up in Gillingham, but his first move south appears to have been to south London where he met up with and subsequently married Eliza Julia Smith marrying her on June 7th 1896 at St. Nicholas's Church, Plumstead. Eliza was born on February 23rd 1870 at Albert Grove, Bexley, Kent. and was the daughter of Edward Smith and Jane Baldry. Jane and Edward had married on October 11th 1864 in Bexley.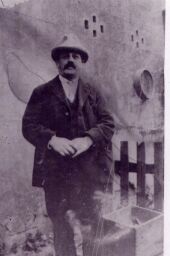 Returning to Edward Maddison Wilson (pictured left, circa 1925) and his wife Eliza, they apparently moved to Gillingham between their wedding date and the birth of their first child, Winifred, in 1898. This was followed by Edward (d.o.b. unknown) Roger William, (b. 29.11.1901) Thomas, Rose, Dolly and Ivy. At the time of Roger's birth the family were living in Arden Street, Gillingham.
Of their children, Winifred married a Mr Moyes (whose first name I simply can not remember) and lived at 7 Otway Street, Gillingham. Ed married Edie (surname unknown and they lived in the Harrow area, having one son, Colin. Edie was deaf and blind for much of her life yet took a leading part in helping others with similar problems, even going on a lecture tour of the USA late in her life. Thomas remained single and emigrated to Moonee Ponds, near Melbourne, Australia, where he died relatively young in 1965. Rose married a Mr Punchard (again, can't recall his first name - he was always "Uncle Punch' to me.) and lived at 14 Hamilton Road, Gillingham. They had a daughter Marion. Dolly married Ernest Wigley and had two daughters, Brenda and Jean. Ivy remained single and lived her life in Gillingham.
Roger William married his first cousin, Gladys May Sparks on September 16th 1934 at Plumstead.