William Wilson (1806 - 1???)

William Wilson was my great-grandfather.

Born March 17th1806 in

Piercebridge (see photo below). Piercebridge is in the south of County Durham, close to the Yorkshire border. Worked as a blacksmith (his own business) at least 1828 to 1834 in Eppleby, a village near Piercebridge. He is shown on the wedding certificate of his son Roger as being a "Workhouse Master" in September 1861. This was at the Darlington St. Cuthbert workhouse and his wife Mary is also shown on the 1861 census for that place. This shows he must have been an educated man, as the duties of the Workhouse master included preparing and reporting on all records of the inmates, expenditure, income etc. William married Mary Marriner at the Church in Stanwick St. John, Yorkshire in 1828 and went on to have five children. Unable to find him in the 1871 census so we assume he had died before then. His mother was Ann, a schoolmistress, who lived to age 89, had her own designated pew in the church of Stanwick St John, where William and Mary married in 1828.


Village of Piercebridge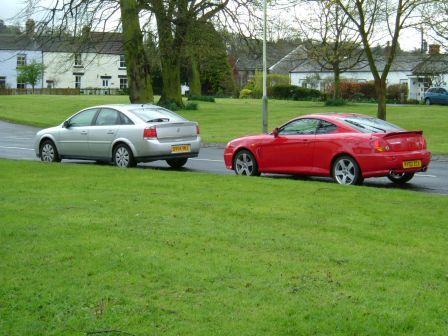 Our cars parked near the Piercebridge village green, April 2005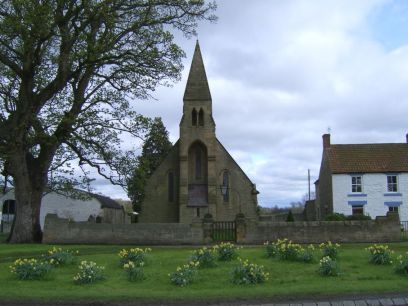 St. Marys, Piercebridge, the Church where William's son Thomas is buried.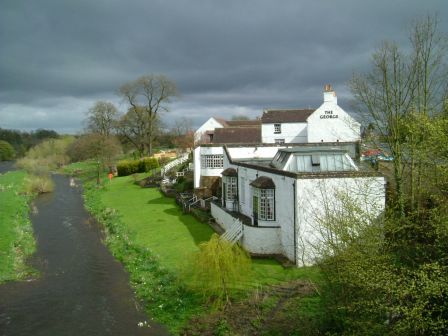 The George Hotel, opened in the 1600s where I'm sure William sank a few pints.

William's parents marriage took place on 20 Jun 1804 - Roger Wilson and Ann Taylor

ANN TAYLOR
Female
Birth:
Christening: 02 FEB 1784 Gainford, Durham, England




--------------------------------------------------------------------------------
Parents:
Father: WM. TAYLOR





WILLIAM WILSON Marriage:
Spouse: MARY MARRINER
Marriage: 01 MAY 1828 Stanwick St. John, Yorkshire, England

1841 Census

William WILSON 35 blacksmith, yes (born in Co. DUR)
Mary Wilson 34 no (not born in DUR)
Thomas Wilson 12 no
Matthew Wilson 10 no
George Wilson 9 yes
William Wilson 7 yes
Roger Wilson 2 yes
Margaret Marriner (Mary's sister) age 40
Robert Cooper, apprentice blacksmith, age 20

1851 Census

William WILSON 45 born DUR Gainford
Mary Wilson 44 born YKS Stanwick
George Wilson 18 DUR Gainford
William Wilson 16 DUR Gainford
Roger Wilson 11 DUR Gainford

1861 Census

William Wilson abt 1806 Piercebridge, Durham, England Head Darlington St Cuthberts Durham
Mary Wilson abt 1807 Stanwick, Yorkshire, England Wife Darlington St Cuthberts Durham
This is a workhouse and ties in with William's occupation given on Roger's wedding certificate.





Parents
Siblings
Children