Links to my other sites

These pages are designed mainly for the extended families of Wilsons and Sparks, and to be more on a personal level than the usual list of names, but if you have wandered on to them by mistake and happen to see any links to YOUR families, please contact me at bobgfc@socal.rr.com and I'll be very pleased to hear from you. Some names are linked to separate pages which provide more detail on the individual.

Direct male Lineage of the Wilsons

Roger Wilson (1734 - 1814)

Very little known about Roger other than he was born in Barton, North Yorkshire and married a lady Mary Bell. They went on to have at least 5 children.

Roger Wilson (1773 - 18??)

All I know is that he married Ann Taylor in 1804 in Gainford and he was a blacksmith, like some of his sons and grandsons. Roger and Ann had seven children.

William Wilson (1806 - 1???)

Born March 17th 1806 in

Piercebridge (see photo below). Piercebridge is in the south of County Durham, close to the Yorkshire border. Worked as a blacksmith (his own business) at least 1828 to 1834 in Eppleby, a village near Piercebridge. He is shown on the wedding certificate of his son Roger as being a "Workhouse Master" in September 1861. This was at the Darlington St. Cuthbert workhouse and his wife Mary is also shown on the 1861 census for that place. This shows he must have been an educated man, as the duties of the Workhouse master included preparing and reporting on all records of the inmates, expenditure, income etc. William married Mary Marriner in 1828 and went on to have five children. Unable to find him in the 1871 census so we assume he had died before then.His mother was Ann, a schoolmistress, who lived until at least the age of 87, and had her own designated pew in the church of Stanwick St John, where William and Mary married in 1828.


Village of Piercebridge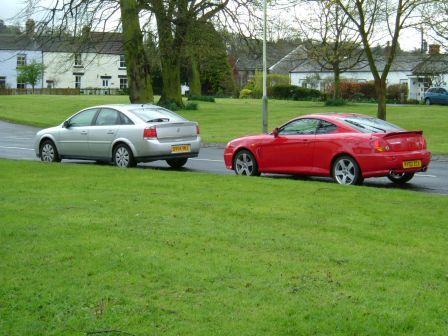 Our cars parked near the Piercebridge village green, April 2005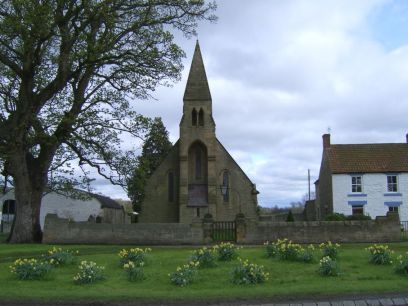 St. Marys, Piercebridge, the Church where William's son Thomas is buried.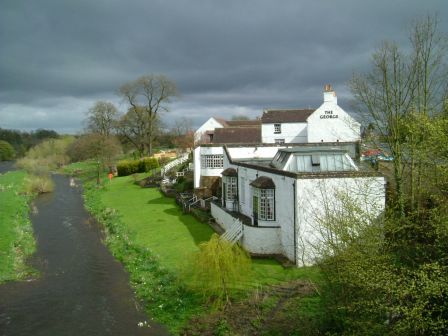 The George Hotel, opened in the 1600s where I'm sure William sank a few pints.

Roger Wilson (1839 - 19??)

Roger was born in 1839 at Piercebridge, County Durham. By the time of his wedding, on September 29th 1861, his address is given as Wharf Street, Durham. However, his marriage to Mary Ann Maddison, took place at The Parish Church, Leeds. Yorkshire.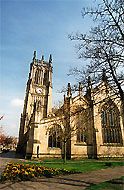 This splendid example of Gothic Revival architecture has been Leeds' parish church since 1841, when it was built to replace a medieval church that had fallen into disrepair. Thanks to some unsympathetic town planning, the church is somewhat cut off from the city centre but it is definitely worth taking the time to find. The interior is particularly stunning - look out for the original Victorian fittings that reinforce the High Church atmosphere. Guide book available.

Their first child was born in Leeds, but then the family moved back to Durham and in 1869 when my grandfather, Edward Maddison Wilson was born, he is shown as living at North Road, Crossgate, Durham. We have visited that street and there are no traces any more of the houses once there, although just up the road is St. Margaret's Church, where many weddings, christenings etc for the Wilsons took place.

Later, in 1881, the family has moved to Durham Road (no number given) Bishopwearmouth, Sunderland, where his family has grown to seven children. Mary, William, Edward, Margaret, Emily, Roger and Thomas. By 1901 census, Roger and Mary Ann live at 5 Green Terrace West, Sunderland. He was a millwright every time his occupation was mentioned, and in 1901 at age 61 he is described as a "foreman" millwright. Emily is still living with them and is now a school-teacher, and their daughter Mary, now Mary Forbes, with two children, Alexandra and Frank, is their house-keeper. A six year old, Harold Middleton Wilson, also lives there, the son of the unmarried Emily. We don't know when Roger died, but as he was alive in the 1901 census, it is reasonable to assume he was still around when my Dad was born in November 1901.

Edward Maddison Wilson 1869-1930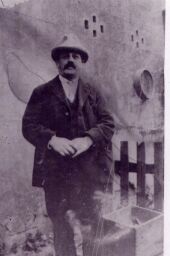 Photo shows Edward Maddison Wilson around 1925

Edward Wilson was the third child of Roger and Mary Ann Wilson on March 25th 1869 and was given the second christian name of Maddison, after his mother's maiden name. Born in North Road, Crossgate, Durham City. He was my grandfather, but I know surprisingly little about him as he died 18 years before I was born. We know he moved from Durham to the south somewhere in the 1890s when he was in his twenties, for he married Eliza Julia Smith at Plumstead, London in 1896. By 1901 the family had moved to rented accommodation at Arden Street, Gillingham, Kent. Although I do not know what Edward did for a living, it is likely that he was involved in working at Chatham Dockyard in ship-building. Certainly, from my research, I find that many families made the same move from the north-east to Kent to get work in the then blossoming ship industry at Chatham. Edward and Eliza had seven children, Winifred, Ivy, Dolly, Rose, Edward, Thomas and Roger. Edward Snr died on August 11th 1930 at 13 Clifton Road, Gillingham.

Roger William Wilson 1901-1972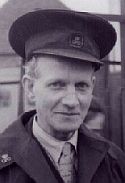 Photo shows Roger in Post Office uniform around 1963
Roger, my father, was born on November 29th 1901 in Gillingham. He was 47 when I was born, so he would have been in his fifties by the time I was conscious enough to get to know him. I do remember a shy, reserved, kind, very gentle man, who I never heard shout. Roger married his first cousin, Gladys May Sparks, on September 16th 1934. (Gladys's mum was Alice, sister of Eliza Julia who married Edward Maddison Wilson). They lived at first in rented accomodation at Baden Road, Gillingham, later moving to 10 Selbourne Road, buying the house around 1960. Roger joined the Post Office as a messenger boy straight from school at age 14. He worked his way up through the ranks and retired from there as a Postal Inspector in the mid-sixties, During the second world war he served as a sergeant in the Gillingham Home Guard, and I know he at one time used to ferry people across the Medway in a small boat. Roger and Gladys had four children, Pamela Gladys, Dora Lilian, Janet Rose and Robert William (that's me).

I remember Saturday evening card-schools, playing Whist, Chase the Ace, and Hearts, with the family, and Roger and Gladys's life-long friends, Alf and Pearcey, ( Pearcey was Doreen Pearce, also known as Fan, who I have just heard died December 1st 2006) Richie (Harriet Richardson) from next door, Chris and Jessie Bridges, Robert and Lil Chalmers, Mum's sister Minnie and her husband Bill. I remember Dad's old cars, Vicky Van, license JG 7585, Annie Fym, FYM 14, Annie Also, the Austin A40. 179 GKK. I remember Dad taking me to see Gillingham play when I was very young, and beginning my life-long love affair with that team. Holidays at Herne Bay or Dymchurch. Days out to Kingsdown Warren, Bluebell Hill, The Hog's Back. Dad died in hospital on January 7th 1972.

Robert William Wilson 1948-

That's me. Fourth and last child of Roger and Gladys, when Dad was 47 and Mum 40. Robert, known as Rob to family, Robert to his first wife, Bob to everybody else. I was a shy child who didn't mix easily. Went to Richmond Road Infants school, then Forge Lane Juniors, then Gillingham Grammar. left there at age 17 after beginning but not completing a 6th-form course because I hated school. Joined the Trustee Savings Bank, where I discovered that the manager used to be part of my Dad's old Home Guard platoon. Worked my way up in the TSB and became a manager in 1976 and stayed there until redundancy in 1990. On September 11th 1971 I married

Jennifer Tapson, of Tonbridge and we had our only child, Scott, on January 17th 1973. Jenny and I moved into Hamilton Road, Gillingham after we married, then on to Peverel Green in Rainham, briefly to Cambrian Way, Hemel Hempstead, Herts, so I could be nearer my work, then to Sandridge Close, Hemel Hempstead in 1978, on to The Ridings, Thorley Park, Bishops Stortford, in 1984, back to Widford Terrace, Hemel Hempstead in 1986 until 1995 when we divorced. I moved on to Townsend with Scott in 1996 then, without knowing it, moved near to where my grandparents and earlier had lived, to Fenham Road, Lynemouth, Northumberland, Then, after selling an old record on eBay, I eventually married the lady who bought it, Marissa Pollock, and moved to live with her in Los Angeles, California. And that's where I am now.......................

Reflections on life in Selbourne Road, Gillingham in the 1950s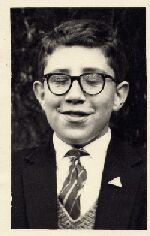 Portrait of the Author
as a young nerd.

Scott Antony Wilson 1973-

Only child of Robert and Jennifer, Scott was born on January 17th 1973 in Gillingham, Kent. I thought we named him after the singer Scott McKenzie but Jenny always disputed that theory! Scott schooled at Halsey School, Hemel Hempstead, and Hadham Hall, Bishops Stortford, before returning to

Hemel Hempstead and finishing at the Cavendish school. Went into insurance and was a manager of Tangent Insurance before that company collapsed, and is now with Sky Insurance. Met Fiona Carter at school and they married in Las Vegas in September 2001. Fiona and Scott take frequent holidays in America. Currently living in Hemel Hempstead, Hertfordshire.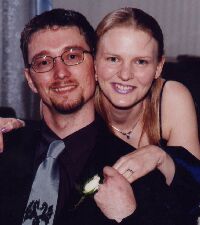 Scott and Fiona on their wedding day, Sept 18th 2001 in Las Vegas